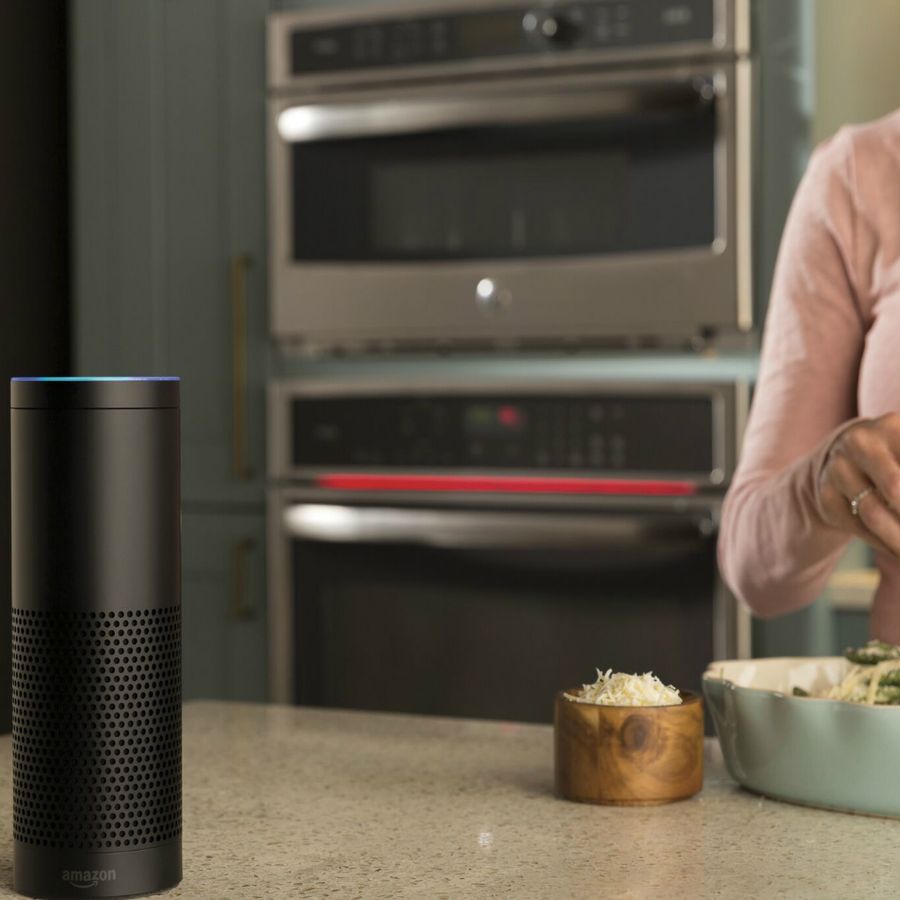 Alexa, it's too hot!
If victory belongs to whoever's virtual assistant can interact with the most unlikely range of household appliances, then Amazon has already won.
The firm's voice-activated digital helper has been added to a bathroom mirror that can – via cloud service Kohler Konnect – pass commands to smart kitchen taps, a shower system and even a smart toilet.
"That means 'Alexa, ask Kohler to flush my toilet' is something you might end up saying in the near future," mused Blair Hanley Frank at news site Venturebeat.
Who needs a copy of Reader's Digest when Alexa is free for a chat, instead?
In all seriousness, the battle to be your smart home's virtual butler is hotly contested and a huge range of gadgets on show at the latest CES tech show in Las Vegas now boast ways for users to interact with them via assistants including Alexa, Google Assistant, Siri and others.
But it's the rivalry between Amazon and Google that is particularly noticeable.
"By day four of CES we will be reporting when a gadget doesn't have Alexa or Google Assistant," quipped Dieter Bohn, executive editor of tech news site The Verge.
Among the devices featuring Google Assistant are many new smart speakers, including models made by Altec Lansing, JBL and LG.
The breezy aide has also recently been adopted by two of the biggest TV brands – Sony and LG.
At CES 2017, LG invited Amazon on stage at its press conference in order to showcase Alexa inside a variety of devices but this year, the honour of an appearance fell to Google.
The tech giant's Assistant is also being added to more car entertainment systems, thanks to Android Auto, where it enables a hands-free means of checking in on Google apps.
Seeing is believing
Significantly, the aide is now compatible with smart displays including four devices shown off at CES.
These will, importantly, allow users to watch YouTube videos.
Google recently blocked YouTube from Amazon's Alexa-powered Echo Show devices – which feature screens – so, for the moment, access to the world's biggest video platform may be seen as a deal-breaker for some.
But the variety of devices packing Alexa certainly appears to be growing ever broader.
From the bathroom appliances mentioned above to an LG fridge that uses Alexa to relay recipe directions while you cook, Amazon's assistant is the one making the most in-roads when it comes to smart versions of traditional "white goods" products.
However, one manufacturer – Whirlpool – appeared unwilling to choose a favourite.
It allows the user to pick Alexa or Google Assistant when setting up voice activation on smart appliances like the firm's range oven and microwave.
One of the more eagerly covered gadgets of CES this year is a set of $1,000 (£740) smart glasses made by Vuzix.
These too have Alexa built in, which helps the wearer – for example – navigate through web content projected in the upper right part of his or her vision.
Tech news site Wareable said the device was ready to "atone for the sins of Google Glass".
For analyst Simon Bryant at market research firm Futuresource, the current leader is easy to identify.
"There's no question that the momentum is with Amazon," he told the BBC.
However, he doesn't think that fridges and bath tubs are where Alexa will really become indispensable for home users, not least because most people don't replace such items often.
And there could be trouble ahead for Amazon, he adds, when it attempts to take Alexa to markets beyond the US and Europe.
"Amazon's reach geographically is still pretty limited and language support [on Alexa] is very poor," he explained.
"Google has many more languages… so moving forward there are question marks about how long Amazon can sustain the growth."
Adam Wright, a tech analyst at IDC, agreed that the voice assistant show-down was now a "two-horse race".
He pointed out that both Google and Amazon have made it easy for developers to create new actions or skills that people can use when interacting with either Alexa or Google Assistant.
Of course, for many consumers a virtual assistant is still very much a novelty.
Both Amazon and Google have been working on ways to educate users on the functionality that their voice-activated aides provide.
"We have over one million actions available to users that [they] can now look up," a Google spokesman told the BBC.
A truly broad user-base, rather than a small phalanx of die-hard fans, would certainly make victory for either Alexa or Google Assistant all the sweeter.
And of course, the data that a large audience would churn out while interacting via voice day by day is what both of these giant companies really want.
And the rest?
"We think Apple is going to be in trouble, they're struggling to compete," said IDC's Adam Wright, referring to Apple's virtual assistant, Siri.
The firm's $349 (£258) HomePod smart home hub has yet to be released and even Apple-themed news site Macworld acknowledged this week that it "barely competes with the Echo as a smart home companion".
Some have wondered whether Microsoft's Cortana helper faces defeat now that Alexa is being added to PCs made by Acer, Asus and HP.
Currently, Cortana boasts just 230 skills – a far cry from the 25,000 available via Alexa.
But it did feature in some interesting products at CES this year – including a snazzy smart thermostat made by Johnson Controls.
One tech giant admirably remaining loyal to its home-grown assistant was Samsung.
It has baked Bixby into TVs, fridges and smartphones among other products – and those are the only places you'll find it.