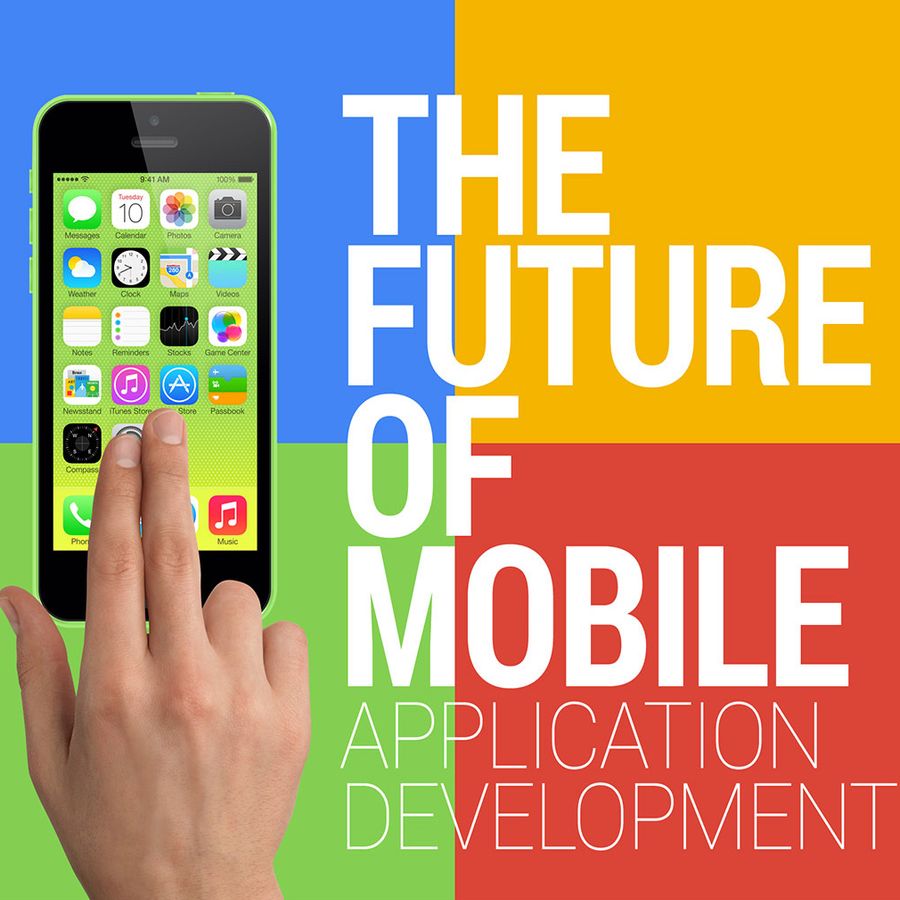 12 mobile app development trends to watch out for in 2020
Today, mobile is fundamentally transforming business models, operating models, and marketplaces, at a surprising rate. By the year 2021, mobile app market revenue is expected to reach $693 billion.
However, going by Gartner's previous prediction, which almost got true, 9,999 in 10,000 mobile apps fail.
In today's ever-evolving and dynamic word, merely having a mobile presence isn't enough.
The popular apps that shined in 2019 might not possess the same potential to work successfully in 2020. Just implementing the correct mobile app development strategy won't assure success, you need to incorporate the latest mobile app development trends in your strategy.
How will you do this? Let's ask Siri or Alexa or Google or any other contemporary virtual assistant.
Hey, Siri! What's going to be the biggest trend in mobile app development in 2020?
1. Building Apps for Foldables
With Samsung coming up with its foldable OLED display, the operating systems are getting ready to make use of this technology to improve smartphone experiences. Google, in 2018, officially announced the foldable support on Android phones by using its 'screen continuity' API.
According to Samsung, hundreds of popular Android apps have been optimized for the Galaxy Fold, including Amazon Prime Video, Twitter, Spotify, Facebook, VSCO, and Microsoft Office.
Since 'foldable phone' is going to be the next buzzword in the year 2020, you need to plan out your mobile app development strategy in a way that it runs seamlessly on foldable devices.
Unfolding the device to provide a larger screen can have a positive impact on users:
A larger screen means more space for detailed and immersive experience.
With multi-windows, a user can perform multiple tasks at the same time.
Video streaming and gaming apps can reap maximum benefits from the foldable device by simply increasing their screen size – or instead, using the extra space to offer additional information and controls.
2. Machine Learning (ML) and Artificial Intelligence (AI)
Everyone is aware of the famous mobile application, FaceApp, which rose to fame overnight because of its brilliant use of Artificial Intelligence (AI). It add filters to a user's photo to show what they would look like when they are older, younger, etc. As of October 2019, the app's total revenue was $1m.
AI and ML have been amongst the trending technologies for the last few years in a row.
Recently, popular mobile apps like Replika, Cortana, and Google Assistant have dug their heels further deep in this field to see a ray of success.
In fact, when Deep Learning joins hands with ML, it can do wonders to mobile app development projects by providing valuable data and real-time analytics.
The global ML industry, growing at a CAGR of 42 percent, will be worth almost $9 billion in the latter part of 2022. ~ Machine Learning in 2019
In fact, Apple, at the WWDC 2019, also welcomed Core ML 3 — the latest version of its machine learning model framework designed to help iOS developers embed AI smarts into their apps. Thus, this year, get deeper into these technologies and get acquainted with its features properly and of many of its components.
3. The Rise of Chatbots
More than 50% of buyers want more do-it-yourself (DIY) custom service tools to expedite making an online purchase. And chatbots are a perfect way to extend that sort of customer relationship management.
In 2020, the integration of chatbots to mobile apps will escalate from being fairly rudimentary to a fierce level.
Chatbots will be delivering $8 billion in cost savings by 2022. ~ Gartner
As of date, there are approximately 2.5 million apps in the Google Play Store and about 1.8 million in the Apple App Store. However, you will be amazed to find out that there are just a few apps that have deployed chatbots to facilitate better UI/UX services.
One of them is Starbucks. They released an app called 'My Starbucks Barista' in which you have to tell the app the kind of coffee you want, and it places an order for you.
With 80% of enterprises expected to use chatbots by 2020 and users appreciating quick and precise answers, it is a real business opportunity to integrate a chatbot to your mobile app.
4. Wearable App Integration
Wearable technology is progressively growing all around the globe. According to Statista, the number of connected wearable devices reached 453 million in 2017 and is expected to reach 929 million by 2021.
With technology advancement, we can expect wearable applications to soon become an important part of our everyday lives.
Apple, at WWDC conference, recently announced its WatchOS update. Apple Watch apps will no longer require a companion iOS app, and will have their own App Store. This clearly signifies the rise in wearable technology.
With apps that operate independently from the iPhone, Apple has upgraded the stature of the Apple Watch to that of an independent device that users can use for their digital needs.
In other words, app developers and businesses should get ready with apps that provide an excellent digital experience to users on Apple Watch, and thus gaining a distinct edge over those who do not.
Explore Further: 5 Key Updates from WWDC 2019 that Matter for Your Digital Business
5. IoT-Enabled Mobile Apps
A network of interconnected smart gadgets is known as the Internet of Things. And in 2019, brands like Amazon and Google have fully utilized this technology and strengthen the competition in IoT by introducing the "Echo" line of devices and Google Home Voice Controller respectively.
Moreover, Google's move to acquire wearable company Fitbit for $2.1 billion and its collaboration with Nest, a Home security camera manufacturer, is an indication that the company is moving fast to use IoT technology.
Continuous supply chain in retail, smart homes and savvy health insurance plans are no more stuff of sci-fi but have come to life in reality. With the increase in demand for IoT gadgets and systems, the demand for IoT-enabled apps too will increase simultaneously.
6. Augmented Reality (AR) and Virtual Reality (VR)
'Pokémon Go' may have been a temporary storm on the eastern seaboard, but AR and VR are here to stay.
The AR and VR technology aren't just prepping and increasing the high-quality gaming applications, they are also being actively taken up for a number of other use cases.
We recommend you to briefly pause here and run a Google search on 'Great White Shark' on your mobile device to interact with a great white shark just in front of you.
The technological giants like Apple and Google are already innovating tons of new use cases using AR. For example, Google is about to introduce a new AR feature for Google Maps, which would provide people with directions from their camera phones in realtime.
Thus, in 2020, AR integration will be one of the essential mobile app development trends that would be shaping the mobile industry by creating a seamless experience for users.
According to Statista, the worldwide market of AR and VR technology will rise from $27 billion dollars in 2018 to about $209 billion in 2022!
7. Mobile Wallets
Given the ubiquity of smartphones and users' intent towards moving to smartwatches, mobile wallets such as Apple Pay and Google Wallet will definitely drive purchasing through 2020. Thus, the demand for mobile wallet apps will be on the rise throughout the next year.
According to a report, the mobile wallet transaction value reached $4,296 billion in 2018. And by 2022, this value is forecasted to reach a whopping $13,979 billion.
Big brands like Samsung, Apple, and Google are making use of mobile wallets to serve their users with a secure and convenient platform for money transactions and bill payments.
8. Mobile App Security to Gain Extra Attention
Yes, we know it is nothing new, but with Uber coming out of the metaphorical closet and accepting the hacking scandal, and even Facebook and Google admitting their security lapses, businesses will be looking to invest more in cybersecurity, given it is directly linked to data protection and information privacy laws.
For instance, in 2018, Facebook shares fell by 8.5% as it was found to be involved with Cambridge Analytica in users' data breach. It was followed by a #DeleteFacebook movement, which was even backed by the founder of WhatsApp, Brian Acton: The finest minds in the industry will have to up the ante to draw out the uncertainty around mobile apps. Even Apple, with its announcement at the WWDC 2019, tried to tackle the issue of security by introducing a new feature called 'Sign in with Apple.' The objective of introducing this feature is to crack down on illegal data sharing during app logins.
In 2020, the mobile app development industry is expected to witness a shift towards the security-first approach, thus laying the roadmap for a robust DevOps Strategy.
9. Beacons Technology
Beacons technology has been around for some time now, and 2020 will make its presence even stronger. Beacon-based notifications are increasingly helping many businesses and industries to connect with their customers in a highly contextual manner.
We're likely to see it more than ever in the form of beacon-enabled airports, mobile payments beacons, and even automated personal beacons. The use of beacons technology can help make virtual tours more personalized and information sharing more smooth and secure.
According to GeoMarketing, by 2020, the number of beacon deployments is expected to reach 400 million globally, thereby generating $56,554M by 2026.
Here's How We Built an IoT Based Solution for Beakn
Beakn mobile, founded by Matt Frazier, serves as a solution to building customer relationships that meet the ever-evolving needs of consumers. Matt reached out to Net Solutions to get an IoT-based Customer Loyalty Program built for the SMBs segment. Matt created a Bluetooth hardware solution called the Beakn Mobile, which simply required to be distributed across mobile devices.
The challenge was the implementation part.
Net Solutions used the CoreBluetooth framework for Beacon Integration, CoreLocation Ranging, and Kontakt Beacons.
What was the result? Read the case study to know more.
10. Instant Apps are Coming Around
2016 saw the birth of instant apps – native mobile applications that are smaller in size than usual apps, user-friendly, and highly convenient because there is just no need to download them. As the name suggests, they can be accessed instantly without any download at all.
Instant apps are not just trending amongst the users, rather they are equally popular amongst iOS and Android developers because they help them achieve a better conversion rate compared to the regular mobile apps.
Hollar and NYTimes claimed that they were able to increase the conversion rate from 20 percent to 27 percent by introducing an instant mobile application.
With users continuously demanding a better User Experience and shorter load times, instant apps are indeed the trend that 2020 will welcome, thereby eliminating the waiting time required in an installation.
11. More Demand for On-Demand Apps
Do you remember the Uber service model, discussed in our article "Things to Know before Starting Your On-Demand App Journey"?
Uber was one of the few companies that started to offer a demand-based pricing model. And it paved the way for a better User Experience for many other popular apps.
Starting from ride-sharing to food, healthcare, beauty, and travel, there is always a need for on-demand apps everywhere. To date, 42% of the adult population has used at least one on-demand service.
By the end of 2025, the on-demand apps industry is expected to generate $335 billion revenue, which is 24 times more than in 2014.
In 2020, the on-demand economy will go deeper into additional verticals and disrupt businesses.
12. Cloud Storage Development
With 54% of enterprises in the UK moving ahead without a cloud-based solution in sight, cloud architecture is still considered as a futuristic trend. But in 2020, that won't be the case anymore.
The worldwide public cloud services market is forecasted to grow by 17% in 2020 to total $266.4 billion, up from $227.8 billion in 2019. ~ Gartner
Cloud technology plays an important role in building Android instant apps. Moreover, iOS devices also use cloud databases in some apps, – writes netsolutions.
Cloud computing integration helps mobile apps store a large amount of data efficiently and carry out complex tasks, along with being cost-effective and extra secure.
Streamlined operations, reduced costs in hosting, better storage and loading capacity, along with increased user retention, are a few of the many advantages of developing mobile apps over the cloud.
ConclusionA zillion mobile apps are already present in the Google Play, Apple App Store, Windows Store, and Amazon App Store. With all these mobile application development trends, the mobile app industry will continue to expand at a rapid pace.
Thus, to stand out in the highly competitive mobile app development space, it is important for business leaders to stay abreast with the latest trends and technologies.
The emerging mobile app platform development technologies, rising backend platforms and microservices, combined with the new hardware capabilities, will continue to steer mobile apps' evolution.